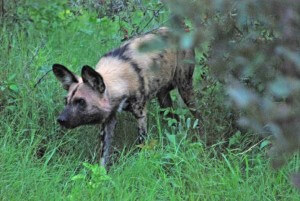 The WILD Foundation was born in the African wilderness. Last month I was in Southern Africa to review a few of our projects, attend board meetings, and to be with our network of colleagues and friends who form the backbone of our work there for wilderness, wildlife and people. It was a productive, warm, and enjoyable rainy season.
Among many projects visited, for the first time in several years I went to the Cheetah Conservation Fund in Namibia. CCF was within WILD for 11 years, I am still a Trustee, and we remain good and close partners. Laurie Marker, Bruce Brewer, dedicated staff and volunteers keep CCF at the top rank of effective wildlife conservation, globally.
For some (very necessary) soul replenishment, I had a few days in the Okavango Delta (Botswana) with our colleagues at Wilderness Safaris, one of the best eco-tourism companies in the world. The Delta is always amazing, and this time even more so. Hours with a pack of wild dogs, hunting and fending off a hyena, was special. Also, amazingly, for two hours we watched a lion cub less than two weeks old, in the open (very unusual…usually the lioness keeps them well-hidden for up to 60 days).
On another project consultation with our sister organization, the Wilderness Foundation (Africa), Andrew Muir and I were in the Karoo in the Eastern Cape…one of the most beautiful and soul-stirring landscapes in the world. We watched a summer rainstorm (an unusual occurrence) move across the Camdeboo Plains.
Among myriad meetings and miles, one objective was more important than the rest. I took Maggie Bryant, my dear friend and WILD supporter, to once again see Ian Player — our mutual friend and WILD's founder — and his wife Ann. Ian and Maggie share a very great deal in common — they are both pioneers in nature conservation (and also in other personal pursuits); they have supported and mentored many fortunate people around the world (of which I am one); they will keep working and living fully until they drop; and they are both in their 80's. They know that time is precious, and they have much yet to do. I could write a great deal more about these two world-class people whom I love and for whom I have immense respect and admiration. We've worked hard, accomplished a great deal together, and had more than a few laughs in the process.
Another very important reason for seeing Ian was to deliver a special gift to him from WILD9. The 9th World Wilderness Congress (Mexico, November, 2009) was the first WWC at which Ian was not present since he started them in Johannesburg in 1977. He did a video welcome, and in spirit at least was certainly with the 1800 delegates which convened in the Yucatan.
I delivered to Ian a specially engraved, three-litre bottle of Don Ramon tequila, which I had hand-carried over 6 weeks through numerous locations in Mexico, California, Colorado, Washington, and Johannesburg! This was a gift from one of our in-kind sponsors of WILD9, with personal wishes from our friend and partner in Mexico, Patricio Robles Gil. As we shared a small amount of "the spirit of Mexico" we toasted the spirit of wild nature that birthed and continues to nurture all life on our small and beleaguered planet.
For me, WILD9 was not complete until that moment.
(For a recent speech that Ian gave to the Game Ranger's Association of Africa, March, 2010)