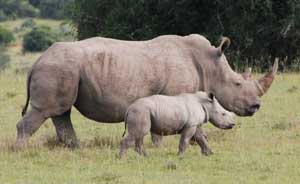 WILD works to protect wildlife, especially in Africa and with iconic species, in numerous ways, from direct anti-poaching to community-based management and empowerment. We have been doing this a long time, beginning  in the early 1960's in South Africa with our founder, Dr. Ian Player, one of the world's legendary conservationists and environmental statesmen. Born in South Africa in 1927, he "earned his stripes" in the rough and tumble era during which Africa's protected areas were being created and tested. With his team, he also pioneered the saving of endangered large mammals  when they saved the white rhino from extinction (Operation Rhino).
Continuing the protection of the rhino, the members of the Wilderness Network, which includes the Wilderness Foundation (Africa), Wilderness Foundation (UK) and WILD are taking urgent action to address steadily increasing levels of rhino poaching in South Africa. In May 2011, the Wilderness Foundation set up a petition to voice the public's outcry over the cruelty of rhino poaching. The petition, which was taken to the highest governmental powers in March 2012, is a vital part of the Wilderness Foundation's lobbying campaign. It received over 18,000 signatures from around the world, and together with an integrated YouTube and social media campaign, generated worldwide awareness of the rhino poaching crisis. Through a partnership with Safari Club International and the Magqubu Ntomebla Foundation, we established an expert team of informants with experience in intelligence gathering and legal & forensic expertise. The goal of the informants, a specialized project which was initiated at the end of 2010 for a specific period of time, was  to identify and collect information on poachers that lead in some cases to arrest or exposure.  Learn more about our work with the Forever Wild Rhino Protection Initiative > 
More recently, a Vietnamese pop duo traveled to the Shamwari Game Reserve to raise awareness about the horrendous rhino poaching crisis. Andrew Muir, CEO of the Wilderness Foundation (Africa), helped sponsor this visit. Read this article just published in The Mercury newspaper to see how this talented duo intends to help save this iconic species.
Vietnamese pop duo to help stop horror of rhino poaching
April 15, 2014 by Tony Carnie
With more than 3 million Facebook friends between them, Vietnamese pop stars Thu Minh and Thanh Bui are hoping they can help turn the tide against rhino poaching before these creatures become extinct. The two singers, who have spent the past week at the Shamwari Game Reserve outside Port Elizabeth, are already working on a song to subtly raise awareness about the South African rhino poaching crisis in their home country of 90 million people, most of whom are under 30.
Thu Minh & Thanh Bui © Wilderness Foundation
"We will have to be incredibly sensitive about how we go about this. We can't just go and sing something like 'Save the Rhino!' or 'Stop using rhino horn powder'. If it is too blunt or too cheesy, it could backfire," said Australian-born Bui, whose parents fled Vietnam in 1982. Two years ago, Bui moved permanently to Ho Chi Minh City (formerly Saigon) after his music career took off and he gained a major following in his parents' home country.
Minh, also from Ho Chi Minh City, said the experience of seeing and touching a rhino in the wild lands of Africa had made a deep impression on her. "I felt its heartbeat and the warmth of its body when one of the rhinos was immobilised at Shamwari for a DNA test. When I came to South Africa this week, I really was not sure that I would be able to deal with this issue when I got back in Vietnam. But now I am a lot more confident about telling the real story about rhinos in my shows and talk shows." Bui and Minh can attract up to 90 000 likes on a single posting on the social media page.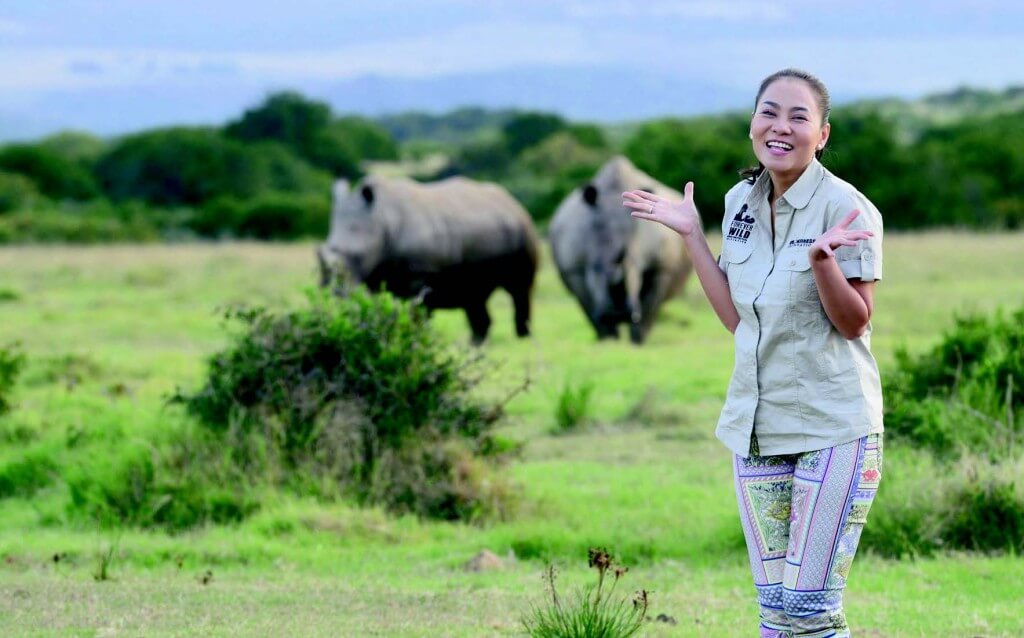 Vietnamese pop singer Thu Minh, who lives in Ho Chi Minh City, gets up close to two white rhinos in the 21 000ha Shamwari Game Reserve near Port Elizabeth. © Wilderness Foundation
Andrew Muir, the chief executive of the Wilderness Foundation which helped sponsor the visit, said various strategies had been used to stem the tide of rhino poaching during the past six years. Some of the experiments had included de-horning animals or deliberately tainting horns with poison and indelible dye. "But we also have to look at new strategies to try to reduce the demand in Vietnam and China through education campaigns and by communicating with people in the countries where most of the horns go to.
"We are the global custodians of more than 80 percent of the remaining rhinos in the world – but we cannot solve this problem on our own in South Africa," he said. "We also realise that trying to reduce demand for rhino horn will not bring overnight solutions. It is going to take a long time and a lot of work to try to turn the wheel around."
Speaking at a media briefing in Port Elizabeth yesterday, Bui and Minh said neither of them had ever consumed or even seen rhino horn in Vietnam. "But we have heard many stories from our friends about how rhino horn is becoming a symbol of wealth and power, or myths on  how it can be used to cure impotence or cancer," said Bui. "We will have to think carefully about how to massage our message and how to reach the elite sections of the population that use rhino horn. But I think we have to stress that we are part of the international community and that Vietnam can lead the way in stopping this problem." Minh said: "The whole world is looking in horror at what we are doing to rhinos. It has to stop for the sake of the rhinos and for the honour of Vietnam."