Registration is now open. Please follow the link here.
Registration fees:
⚬ General registration – $1,000
⚬ Registered Tribal-Member – $600
⚬ 35 and under – $500
⚬ Registered Tribal-Member 35 and under – $300
Although we do not have a detailed itinerary for WILD12 yet, please reference our WILD11 itinerary to get a sense of how the week will unfold.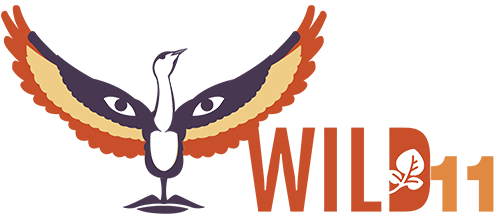 19 March — Official Opening
Plenary begins at 1200 noon, with sessions all afternoon followed by an evening welcome reception.
20-21 March — Global Gathering
The Global Gathering is open to all delegates and sets the agenda of the Congress. Here, delegates will hear from and interact with some of conservation's biggest thinkers as they present bold visions to advance the protection of wildlife and wild places. All plenary sessions will take place during the day, with a choice of events in evenings.
Plenaries are a combination of:
Keynote addresses on a specific subject and its outcomes, global, national, cultural. Only in extremely special cases are they longer than 15-20 minutes. Many, but not all, are followed by a Q&A session.
Panels on an array of examples/demonstrations on a specific topic that consist of 3-4 presentations of 10 minutes each, followed by Q&A.
There will be a close interchange between the best of the Symposium (concurrent sessions) and the Plenary Sessions.
Cultural moments, events, and themes.
23, 24, 25, 26 March — Convention of Delegates
On these days, delegates meet in both plenary and working sessions to share information, problem-solve, and build unity across cultural, and political boundaries.
23, 24, 25 March
Mornings — Plenary Sessions
Afternoons — Science and Stewardship Symposium (concurrent sessions), workshops, and more.
Evenings — choice of events, cultural, film festival, etc.
26 March
GENERAL ASSEMBLY — On the final day, delegates reconvene to adopt WILD11's resolutions and set the global wilderness conservation agenda for the next 4-5 years.
Morning and afternoon — All plenary sessions, final outcomes, resolution adoptions, closing celebrity speakers, closing cultural evening.
Other events at WILD11
19-26 March — Central Park (immediately adjacent to the Birla) Young Environmentalist Programme: thousands of school children and Congress delegates will participate in daily programmes centered around environmental education, films, displays, and workshops.
19-26 March — WILD11 Expo of commercial, NGO, governmental, artistic, educational, artisanal initiatives. Display areas and pavilions are available for rental in the Expo Centre on two floors inside the Birla Convention Centre. (These are available on a cost basis to non-commercial initiatives, NGOs and bona fide educational institutions.) Another specific aspect of the WILD11 Expo is the WILD Cities Tent, featuring numerous examples of cities and urban areas working to promote wildness values such as biodiversity, wildlife friendly habitat, natural water features, and natural quiet zones. This will be showcased in a very large traditional, colourful Rajasthani tent on the grounds of Birla immediately adjacent to the main conference centre. There will also be art installations, a film festival, and photography exhibitions in the main conference centre and elsewhere. All of this is open to the public as well as delegates. Rental details will be available on-line in November 2019.
22 March, Sunday — A WILD Day: Local tours, shopping, associated meetings.
If specific invitations are required for a delegate or invitee to use for visa, travel or other purposes, they can be requested from info@wild11.org. In the subject line please enter "Request for invitation." Include in the email your name, the gender with which you identify with, age, address, organization/community affiliation, passport number, and nationality.
Pre and Post-Congress
Numerous training, capacity-building, and peer-group meetings will be held in the several days before and after WILD11.