My 2 ½ year old nephew ran around the crowd, proudly displaying his cardboard sign he couldn't read.
"I like dinosaurs, but I don't want to end up extinct like them."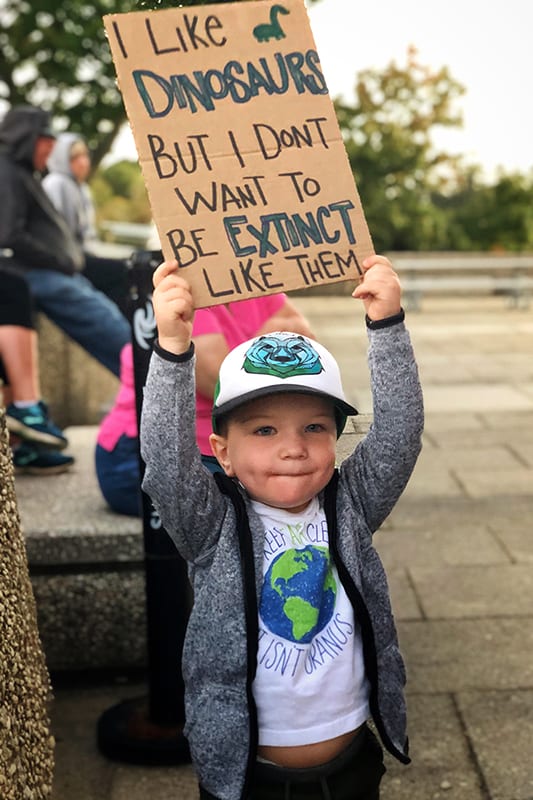 Our fellow climate strikers reached for their phones and cameras to snag a snap of him thrusting his sign in the air, marching about in circles, beaming with life and an infectious smile. He couldn't help but be encouraged by the attention. With his sight blocked by the sign that was as big as he was, he walked blindly into the back of someone's leg, fell down, and started giggling. Those around him did too. Yet, as I stood on the outskirts and spectated, the sad irony of it all began closing in.
I envied his innocence.
I felt like we were doing something wrong by laughing, smiling, and -dare I say- enjoying ourselves at this strike. It felt like we were at a funeral, and having any emotion other than sadness felt…well…inappropriate. In some ways, we were at a funeral – or maybe more accurately, we were sitting at the bedside of a dying loved one. That loved one was the planet.
Millions of people, young and old alike, joined the strike for climate change over the past year – galvanized by Greta Thunberg's urgency and resiliency in the face of extreme opposition. The movement provided camaraderie, amplified voices, and it quite simply gave people a way to contribute to a cause much bigger than themselves. It gave an outlet for those feeling overwhelmed and helpless at the enormity of what faces our future as a global society and became a platform for people to share their whys, namely in the form of homemade signs and quippy phrases. A collective pressure began to be placed on world leaders, politicians, and decision makers to shift their tactics, realign their values, and make choices that represent the protection of the planet versus protection for investors. Protect.  Restore. Fund. became the rallying cry to move into action.
But when the strikers and marchers head home for the evening, does the message translate into their own actions? How have we done in lowering the threshold for daily shifts in habits? Are we leading by example, or just pointing blame and responsibility on others in a subconscious desire to relinquish our need to be uncomfortable, change our routines, and make choices that are less convenient, more expensive, or that take away modern enjoyments? The climate march has given us a voice, but do we have the tools to enact our own change?
Just prior to chasing my nephew around, I had spent a week in New York City with CoalitionWILD's seven Young Champions of the Earth for 2019. While the world waits for laws, policies, and standards to reflect the needs of our planetary health, these #YoungChamps are charging ahead by innovating in their spheres of influence. These under 30 year old's didn't set out to win the highest environmental prize awarded by the UN Environment, rather, they saw a problem and refused to wait for someone else to address it. Starting with what they knew and what they had, each grew their impact one step at a time – now collectively affecting hundreds of thousands of people around the world on issues like textiles, agroforestry, water purification, electric vehicles, and community and large landscape conservation.
As inspiring as they are separately, collectively these young champions exemplify more than just taking action – they personify turning a why into a how.
We are all influencers. Although the size of our circles may differ, our effect inside those circles doesn't. As we consider how to create and amplify change, first we need to understand and embrace how much we matter to the process. We are the instigators, the initiators, and the stokers of the flame.
So how do we turn interest into action? How do we come home after a day of marching, or meetings, or influencing and ensure our feelings of hope, impatience, and ambition don't fizzle out?
Becoming a Young Champion of the Earth isn't a title saved for seven emerging leaders per year. It's a title to be placed upon any of us who are willing to risk stepping out of the status quo to be uncomfortable, inconvenienced, or impractical for the planet. It's for those who see a problem and discover how they can use what they have available to make the situation even marginally better. It's for those who dedicate their time, energy, and belief in causes that are already established to increase their capacities or impact. It's for those who volunteer, who donate, and who believe that nature has the right to a voice.
It's for those willing to have change begin with them.
When we believe in something, it gains energy – but when we go to work on something, it gains power.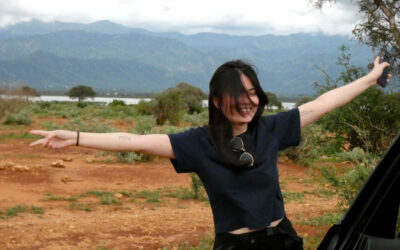 Meet Yen Parico, Director of CoalitionWILD, a nature conservation professional helping make the world a better place.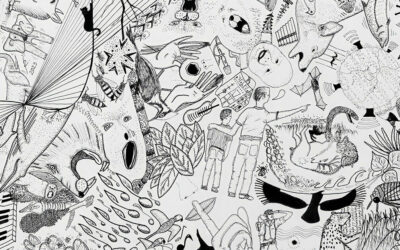 Something momentous happened in the Amazon this year, and if you are a WILD.org donor, surprise! you were a part of it.
In a world facing environmental challenges, individuals like Steve Misati emerge as beacons of hope, leading the charge for marine conservation and climate justice. Hailing from Mombasa, Kenya, Steve is not just a dedicated Marine Conservationist but also a fervent Climate Justice Advocate and Environmental Defender.
Join the WILD tribe today!