You can help unlock the infinite potential of wilderness
Life was born in wilderness – and so will be a sustainable future.
54 NFT's representing Earth's life-giving ecological services to help protect 1 WILD planet, Collect to protect the green living engine of life: our singular planet.
Current Top Donors
Updated Weekly
Steve TenElshof, Lindsay Ellis & Climate Ride, $44,841.60 | Sarita & Glenn H., $35,000 | Rising Phoenix Charitable Foundation, $15,000
Leslie and Geoff O., $10,000 | Tim N., $5,000 | Andrea G., $5,000 | Ann M., $3,000 | Avaaz, $2,700
Anonymous, $2,252.65 | Randall R., $2,000 | Adam P., $2,000 | Jennifer T., $2,000 | Reinhold & Linda B., $2,000
Welcome to Infinite WILD, an NFT project designed to invite collectors into the world of biodiversity conservation.
Technology, like renewable energy, for all its exciting potential, is not yet capable of being deployed quickly enough at the necessary scale (global) to halt the climate crisis or mass extinction. We need nature's help – and likely always will – if we want a sustainable future.
Why wild nature? …
SHOW MORE
Well, our oceans and forests are the biggest carbon storage facilities we have helping to slow the climate emergency. Nature also produces all the oxygen we breathe. It stabilizes our climate patterns making investment in agriculture possible. And it also directly supports the livelihoods of over 1.7 BILLION people annually. To put it simply, without nature's life-giving, ecological services our civilization loses essential biological, economic, and climate support.
To build support and appreciation for nature's multitude of life-giving functions. Structured as a traditional card deck, including four suits that correspond to the four categories of scientifically recognized ecological service categories.
As an added bonus, all donors during the time period above will receive a Community Card NFT of the deck's card back design. Your membership in a unique community of NFT-collecting nature advocates who invested in WILD's critical work mobilizing support to protect Half of Earth's lands and seas will be minted and immortalized, regardless of your gift size!
A Little Bit About
WILD is the organization working in countries around the world to mobilize action to protect Half of Earth's lands and seas – the amount scientists say we need to have a future. We began in South Africa almost 50 years ago as a friendship between a South African game ranger and his Zulu mentor. Despite the discrimination they faced during the apartheid regime, they worked together to do something that had never been done before: save a species – the Southern White Rhino – from the brink of extinction.
Their experience taught them that without widespread, global support, we could never reverse the accelerating destruction of wild nature. Thus, WILD was born. Our primary mission is to create and mobilize the action needed to save life on Earth.
Join The Conservation Conversation Online
Storing Emissions From 10 Million Cars
Indigenous Peoples are some of the best stewards of Earth's lands and seas which is why we have partnered with the
Yawanawá People
to defend 200,000 hectares of rainforest (which sequesters carbon equivalent to the annual emissions of 10 million cars) and restore additional lands belonging to the Yawanawá in the Western Amazon.
IMPROVING LIFE FOR THOUSANDS OF PEOPLE & 300 ELEPHANTS
We work with over
50 local communities in West Africa
to ensure that they have the resources they need to manage their lands, benefiting the people and North Africa's last remaining herd of desert elephants.
TAKING ACTION TO PROTECT THE ENTIRE BIOSPHERE
We are mobilizing action to protect Half of Earth's lands and seas.Last year, we established the first formal global policy recognition of the scientific consensus that keeping at least Half of Earth's ecology intact is necessary to halt climate change and the loss of biodiversity.
Learn more about the need to protect Half here.
INCREASING CARBON UPTAKE 2-12X
We are mobilizing decision-makers to utilize
rewilding as a strategy
for climate mitigations, especially the restoration of threatened species that help increase carbon uptake by 2-12x!
INVESTING IN THE IDEAS & ACTIONS OF OVER 70 YOUNG CONSERVATIONISTS
CoalitionWILD
, WILD's young professional program, is enabling young people around the world in the areas they are needed most to take action for nature.
An Investment
In A Collectible
THERE CAN BE ONLY ONE
Each NFT is only minted once, and with the exception of the community card (the card back design), each will only have one owner.
54 DONORS FOR 54 CARDS
The top 54 donors between October 1 and December 31, 2022 will receive a unique, carbon neutral NFT. While we can't guarantee you receive the NFT you want, the higher donations will be given preference if a card is indicated as preferred.
CURATED NATURE SERVICES & SERVICE TO NATURE
Most cards represent one of four types of ecological services. Some cards feature people (especially WILD's program staff) representing services we can give back to nature.
DESIGNED FOR COMMUNITY OWNERSHIP
All donors will receive ownership of a Community Card NFT featuring the card back design.
WILD plans on offering an NFT collection every year and combining community card NFTs into new, extra unique items awarded based on continuous participation. Start collecting today for the most rewards!
The other cards will be given to the top 54 donors within this time period, and will be distributed in early January. Last year, the median donation from our top 54 donors was $1,000 (The average was $2,377). Donate at or above this level to improve your chances of receiving one of the unique 54 NFTs!
Although we cannot guarantee anyone a specific piece of artwork, you are encouraged to note with your donation which you would like- preference will go to the highest donors.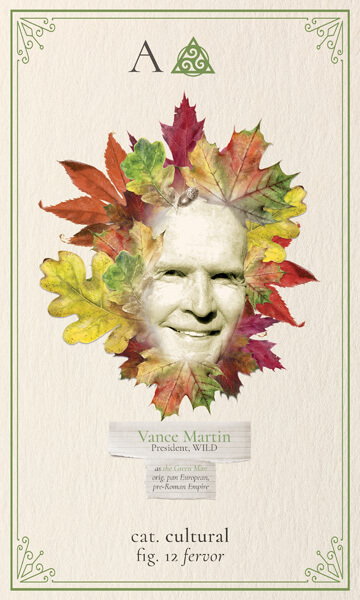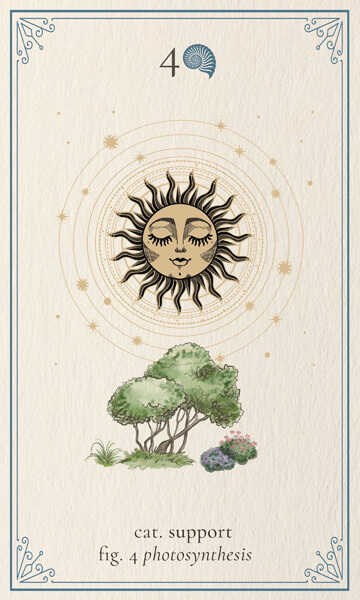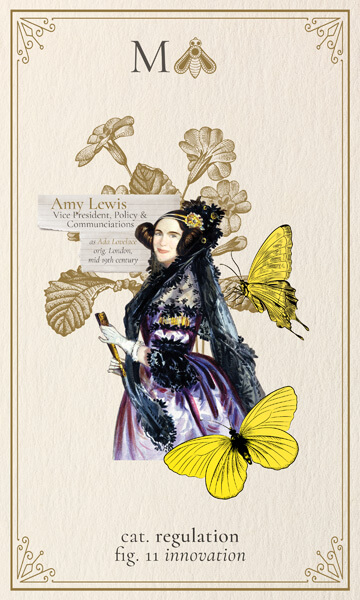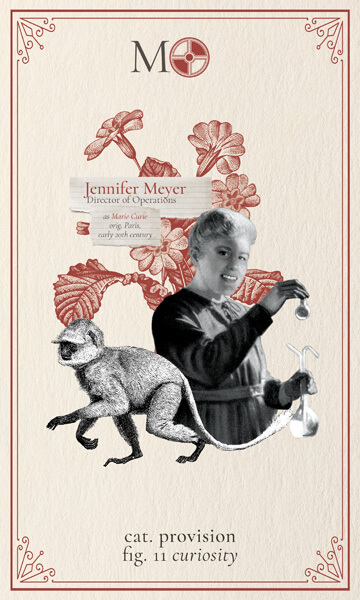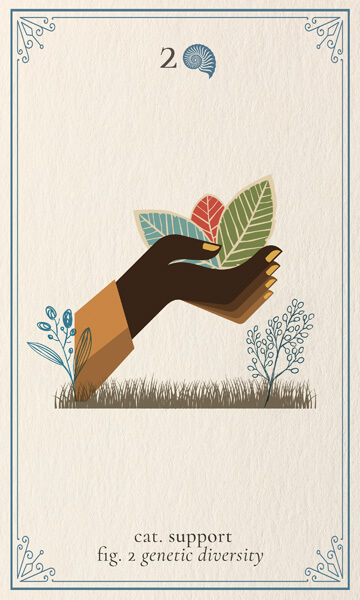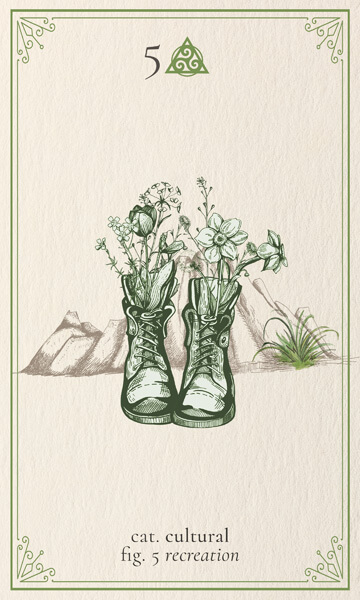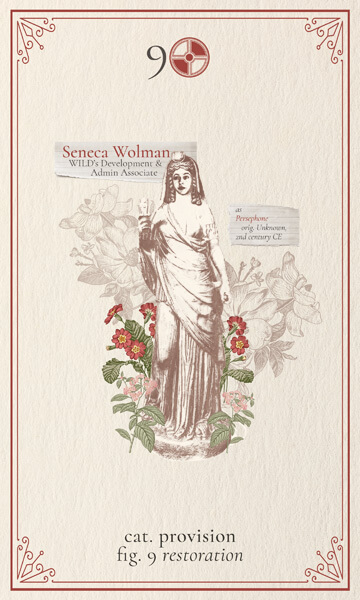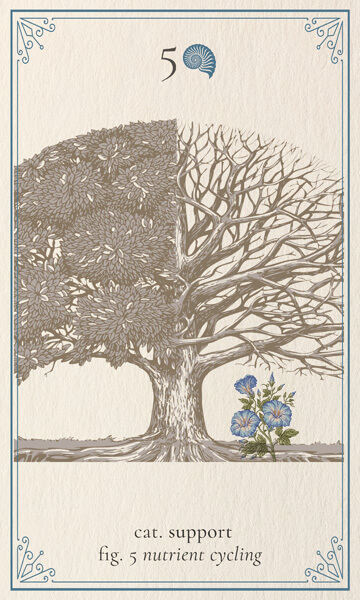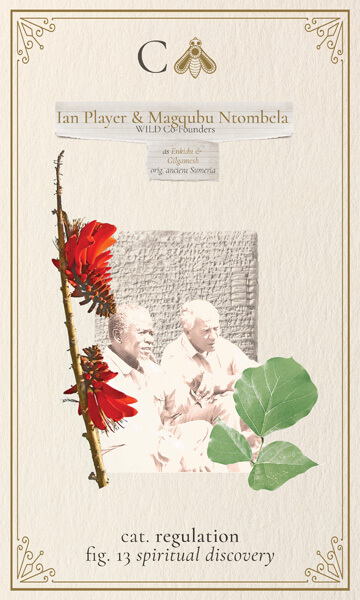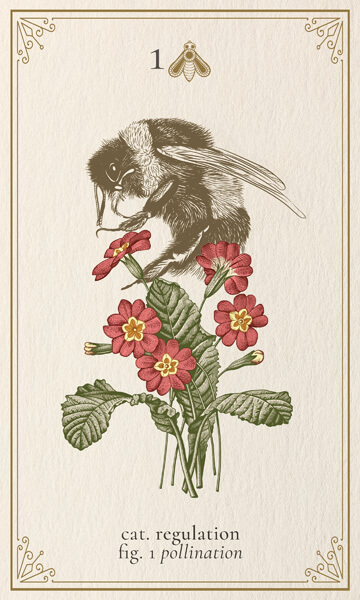 Phase 2
October 1-December 31: Each donor receives ownership of a Community Card NFT featuring the card back design.
Phase 3
January 1-January 8, 2021: The top 54 donors will be notified and asked to claim their Infinite Wild NFT.
Phase 4
January 31: The deadline to claim NFTs ends. Unclaimed NFTs will be recycled in future campaigns.
Phase 5
April, 2023: Be on the lookout for a second WILD NFT project for Earth Month!
MORE INFO ON THE IMPACT YOU CAN MAKE BY ENTERING TO WIN AN INFINITE WILD NFT
Amy Lewis
WILD Vice President, Policy & Communications
Since the beginning of her career campaigning for a sustainable, just, and healthy world, Amy has been designing digital art, sometimes in service to others and sometimes just because she needs to create. Her earliest works included a digital shrine to a contemporary take on the Muses who, according to Amy, now act as patrons to (in addition to their existing duties) the History Channel, Mass Media, and Rock & Roll. While her work for WILD has taken a less artistic, far more strategic turn working on an international team campaigning to save Earth's biosphere by protecting Half of all land and seas, she enjoyed revisiting her past and producing the art for the Infinite Wild NFT collection.
Mark Voss
Graphic Designer
Mark is a graphic designer, photographer and artist. He loves to solve problems visually and aims to make the world a better place with effective, thought-provoking design. Away from designing, Mark is passionate about mountain biking, sailing the Great Lakes and spending time with his family.
Do I have to donate with crypto-currency to be eligible to receive an NFT?
All donations are welcome! Crypto and fiat alike! Donate now.
Prefer to send a check or donate via a DAF? Please mail to: WILD Foundation, 717 Poplar Avenue, Boulder, CO 80304 and let us know your email address at info@wild.org.
If I donate, am I sure to receive one of the unique 54 Infinite WILD cards?
Every donor who gives at any level is guaranteed ownership of a Community Card NFT (a set of 1,000) featuring the card back design. After December 31st, the 54 donors who have given the most will receive one of the uniquely designed Infinite Wild cards. There is no way to tell what specific level someone will have to give at in order to receive one of these cards, however, the more you donate, the better your chances! As a guideline, the median donation of our top 54 supporters in 2021 was $1,000.
What if I am only interested in a specific card/design?
We are flattered that you appreciate our art and understand that you may be especially drawn to one or more cards. Unfortunately, we cannot promise our supporters that they will receive any specific card. When making your donation, please note in the "additional comments" section which card you prefer. The donor with the highest donation is most likely to receive their preference.
Give Today
Protecting nature on a large scale is critical for local communities and the planet. We cannot do it alone.
In partnership with Mygiving.io
MyGiving gamifies philanthropy by empowering nonprofits to create and send NFTs and digital assets while providing a way for donors to virtually share and celebrate the organizations they support.