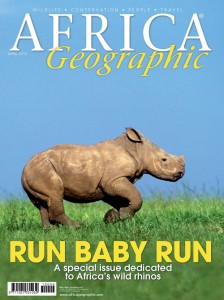 In this upcoming April edition of Africa Geographic, Dr Ian Player–WILD's founder–is interviewed by Rachel Lang about the past and present rhino poaching crisis. Dr Player is a 'man of many reasons' for wilderness: African game ranger, international diplomat, writer, lecturer, wilderness guide, and a man of culture, the arts and psychology. Ian brings all of these parts of himself to bear on a single mission: to assure that wilderness remains a constant reality, and a source of spiritual inspiration, prosperity and fundamental physical life on planet Earth.
>>Read the Africa Geographic Article, "A Heart for Rhinos."
ABOUT THE ARTICLE 'A Heart for Rhinos'
Veteran of a previous 'rhino war', Dr Ian Player has a special connection with these charismatic animals and is following efforts to combat poaching with great interest. This world-respected conservationist has valuable insights into how we can tackle the current crisis and shares these with Africa Geographic.
ABOUT 'Run Baby Run'
Run Baby Run is your most accessible and comprehensive guide to rhinos and their plight – the entire issue is dedicated to the animals. In collaboration with leading rhino experts, we cover  their history, as well as the poaching crisis and solutions to curb it.
ABOUT THE AUTHOR
Rachel Lang is a teacher specialising in environmental education and currently working as an intern at Africa Geographic. She was lucky enough to be given the opportunity to interview Dr Player at his home in the KwaZulu-Natal Midlands.
ABOUT AFRICA GEOGRAPHIC
Reporting on Africa's wildlife, conservation and travel, Africa Geographic is a beautifully photographed, thought-provoking read for anyone who loves Africa and wants to learn more about its people, animals and spectacular places.
TERMS OF USE
The WILD Foundation is granted the rights to publish the attached article in any format (digital or print), free of charge, provided the credit lines are used.
Text by Rachel Lang
Edited by Leni Martin
Photograph by Charlie Gregor
Published by Africa Geographic www.africageographic.com