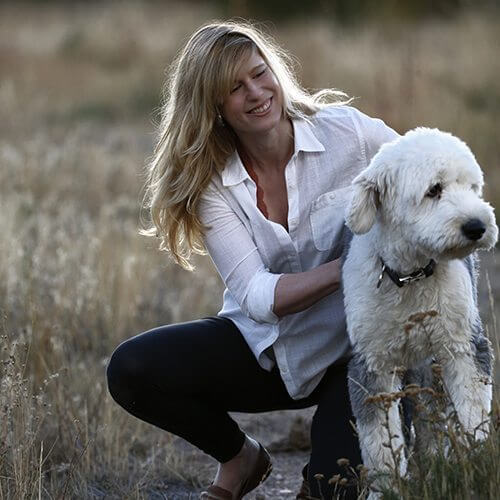 Amy Lewis
Chief Executive Officer
For more than two decades Amy has worked as a social movement scholar and practitioner in the environmental and human rights sectors. In 2015, she brought a unique, social science approach to the WILD Foundation, first as its development officer, and later as its vice president of policy and communications, adding to her existing knowledge and insights about building effective social movements while working on wilderness policy processes in places as far-flung as India and China and as close-to-home as the Rosebud Reservation in South Dakota. Amy is committed to building global support for the protection of Half of Earth's lands and seas while also strengthening and expanding the land tenure of Indigenous Peoples, nature's best guardians.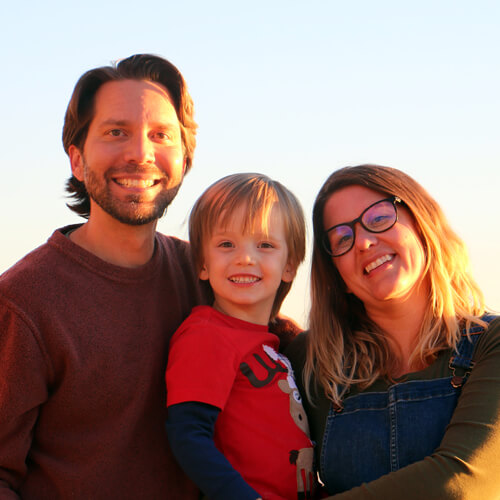 Jennifer Meyer
Chief Operations Officer
Jennifer has been at WILD since late 2014, coming in with experience from the for-profit sector in both administration and marketing. After so many years at WILD, Jenn has learned that her heart lies with helping the planet and the people working so hard on a variety of Earth-related missions. Her role is managing all operations for programs, partners, and WILD's core work. Solving problems and seeing the results brings her the greatest joy! Outside of work, Jenn enjoys spending time with her family, whether it's in the mountains or cozy at home.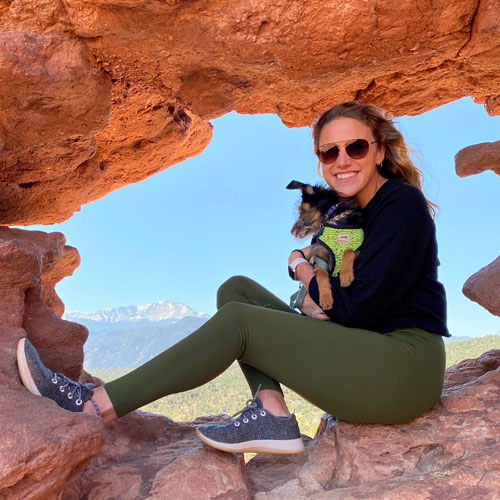 Jackie Batrus
Voices of Wilderness, Podcast Host
Jackie's days at WILD began as an intern back in 2012, and she hasn't been able to stay away for long. After finishing her undergraduate degree in Communications and Environmental Studies from Boston College, Jackie came back to work for WILD first as the Nature Needs Half Community Architect, then as Content Manager, and now as the Voices of Wilderness podcast host while she finishes her Master of Science in Marketing at the University of Denver. Jackie is passionate about compelling and convincing storytelling as a means of opening people's eyes to the environmental crisis our planet is facing.
Outside of the office, she loves trying her hand at new homemade recipes and enjoying the sunny, beautiful nature that Colorado has to offer. She may be landlocked, but don't let that fool you. Jackie is a mermaid at heart and has a passion for diving and marine wilderness. Don't get her started on her love for sharks, or do, but know that you'll be in for quite a lengthy conversation.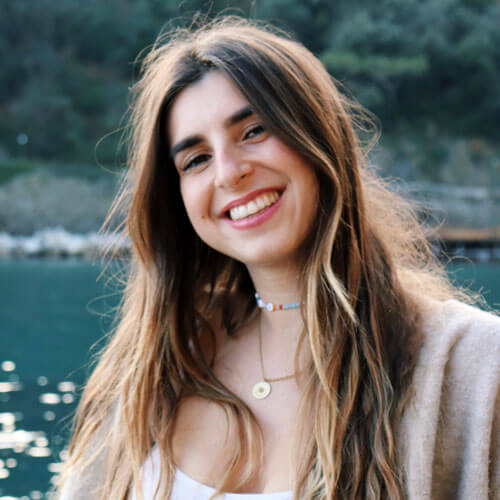 Giulia Gasparrini
Social Media & Content Specialist
Giulia has been passionate about Nature and the Sea since she could open her eyes: she was born with the sounds and smells of the Mediterranean. This is why, as a seeker of meaning in her life, she quickly asked herself how to make her expertise a tool for things she really cares about. She decided, therefore, to work for the people around her, for the Planet and became a Communications Expert specialized in Storytelling Communication and Content Creation for impactful organisations, creating a positive change in society.
Giulia often works for Nature in Nature or looking at the Sea; she always wears a swimsuit under her clothes to always be ready to go explore the Sea, whenever she has a minute. She is passionate about stories, their power to connect people and inspire. She always has something to write down, a camera in hand and enough imagination to transcribe and share what she sees and hears.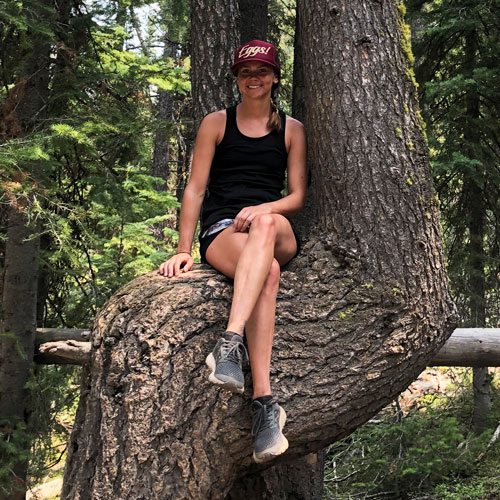 Tori Pfaeffle
Development and Administrative Associate
Tori comes to WILD with a variety of professional experiences ranging from social science research, to non-profit work, to managing and training clients and their horses. This diversity of experiences is driven by her passion for creative problem solving through results oriented research, communications, client relations, and operations to support people, organizations, and their goals. She has a Master's degree in International Studies with a concentration in international development and Latin American studies from the University of Denver, which allows her to bring an interdisciplinary social science background to her work. Most importantly to her work at WILD this includes, finding ways to foster the knowledge and understanding needed to solve the world's most pressing environmental issues.
Outside of work, you will find Tori riding horses, spending time in her garden, or going on adventures with her friends and family.
Maddy Miller
Development and Administrative Associate
Maddy joined the WILD team summer of 2023, returning to her love of conservation after a post-college trip to the world of human services. She graduated from the University of Denver in 2019 with degrees in International Studies and Environmental Science, and is passionate about bringing "everyday" people into the global conservation movement.
Outside of work, Maddy spends most of her time reading or gardening. She is a passionate no-till regenerative flower farmer; if you ever want to talk soil, you know who to call!
Brian Lynn
Content Manager
Brian has been producing, directing, filming and editing video and audio content for over 20 years, helping brands around the world to reach audiences through impactful and relevant storytelling. Brian grew up the son of a labor negotiator and a school principal in Chicago, eventually moving to the front range of the Rocky Mountains in 2013 with his wife and three sons. Since then, they have expanded the family to include three dogs, including two Galgo rescues. Brian is thrilled and honored to join WILD as Content Manager and Video Producer, and aims to bring his skills and experience to further the mission of achieving lasting protections for Earth's wildlife and wild places.
Brian is a musician and a passionate audiophile, always on the hunt for music and sounds to inspire the soundtrack of his life. He is also a high alpine fly angler, a devourer of audiobooks, and a tabletop game enthusiast. He remains dedicated to his yoga and meditation practice, and keeps active as a trail runner, hiker, and backpacker.
Susan Canney
Conservation Adviser and Project Leader for our Mali Elephant Project*
Dr. Susan Canney has a variety of experience from working on conservation projects across Africa, Asia and Europe, and as a research officer for the UK Government's independent adviser on sustainable development at the Green College Centre for Environmental Policy & Understanding.
Her work involves using systems perspectives and collaborative approaches to understand the human-nature relationship and find sustainable solutions to conservation problems.
She is a Research Associate of the Department of Zoology, Oxford University, a Trustee of Tusk Trust, a Tusk Award Judge; sits on the Nature Needs Half Advisory Committee, the Sahara Conservation Fund's Science Committee, and is a member of the IUCN African Elephant Specialist Group. She has co-authored a recently published book on "Conservation" for Cambridge University Press, that takes a global perspective to bring conservation to the heart of sustainability and environmental policy.
*The Mali Elephant Project is a joint program of WILD and the International Conservation Fund of Canada.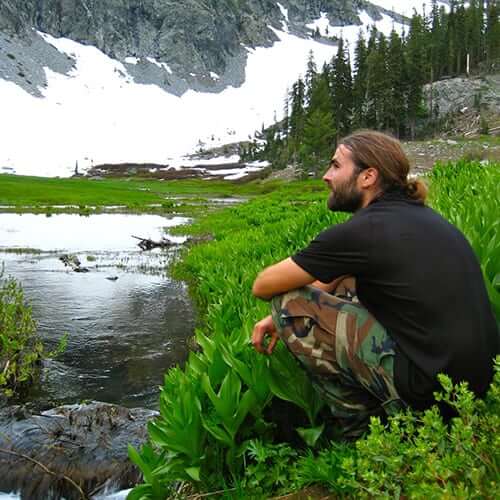 Adam Hanson
Sr. Conservation Network Manager
Adam is the Facilitator for the North American Intergovernmental Committee on Cooperation for Wilderness and Protected Areas Conservation (NAWPA) and provides program support to the Marine Wilderness Project. He has a strong passion for the environment and fostering relationships between people and nature.  Adam holds a B.S. in Biological Sciences from South Dakota State University and M.S. in Biological Science at Old Dominion University. As a U.S. Peace Corps (PC) volunteer, Adam specialized in coastal resource management and establishment of marine protected areas. During his PC service, he worked with local fishers communities, provincial and federal agencies, NGOs, and scientists to facilitate, develop, integrate, monitor, and evaluate coastal projects throughout the Philippines. He studied the origins of biodiversity by examining genetic relationship of coral reef fish populations throughout the Coral Triangle as a Research Scientist/Molecular Ecology Lab teacher with the Coral Triangle Partnership in International Research and Education. Adam is based out of WILD's Washington, D.C. office and enjoys exploring the outdoors, music, sports, spending time with family and friends, and volunteering at the local farmers market selling organic produce.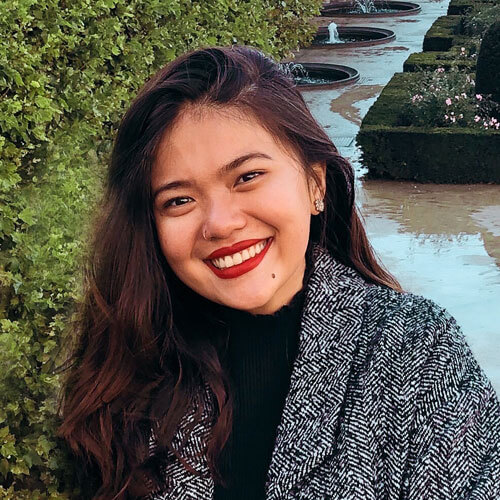 Yen Parico
Program Director, CoalitionWILD
A firm believer in the significant influence of the youth in creating a better future for the planet, Yen Parico is advancing youth empowerment as the Community Organizer of CoalitionWILD—a for-youth by-youth global organization creating lasting youth leadership for the planet through capacity building training, mentorship, and storytelling. Prior to joining CoalitionWILD, she was a consultant at the International Rice Research Institute (IRRI) where she assisted in increasing the capacity of farmers to use ICTs and a Small Island Developing States Research and Communications Intern at the United Nations Development Program (UNDP).
Her experiences and learnings in the Philippines shaped Yen's deep-rooted foundation as a sustainable development advocate. Her career focus and passion have been to support small communities and underrepresented people in creating solutions to the challenges they are facing in their everyday lives. Yen is driven to find ways for those groups who are often hardest-hit by the effects of the climate crisis and biodiversity loss, and to create change where and when it is needed most. Yen holds a Master's degree in Sustainable Development from Katholieke Universiteit Leuven. At present, she proactively pursues her passion for ocean conservation and illegal, unreported, and unregulated fishing (IUU).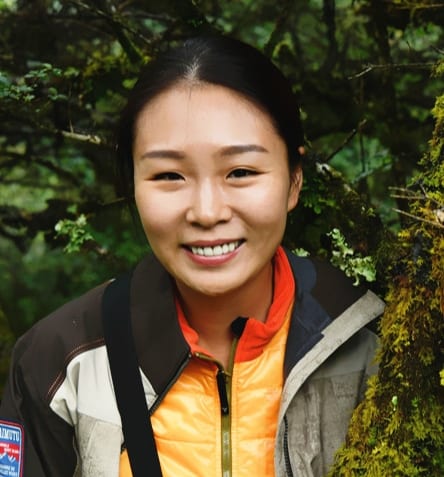 Zhang Qian
China Representative, WILD Foundation and Wilderness Foundation Global
Zhang Qian joined the international wilderness family in 2016 when she was introduced to this idea by WILD president Vance Martin and their common friend, with whom she had worked for years for showing China's amazing beauty of nature to the world through nature photography and communication. As a nature lover, Qian was deeply inspired by the wilderness concept which could fit into China's undergoing Eco-civilization movement, national parks planning and Eco-Red Line policies. She believes the introduction of an international wilderness standard will benefit China's future conservation efforts, as a similar idea has been deeply rooted in the country's traditional culture for a thousand years, but has somehow been lost in people's minds because of the fast modernization progress.
As the China representative of WILD Foundation and Wilderness Foundation Global, Qian works as a bridge and facilitator between the international think tank and Chinese government, NGO partners, and academic institutions, working to build up a wilderness movement together that will work for China and shape China's future conservation of wild nature. Academically, Qian completed her master's degree at Tsinghua University in 2018 which researched wilderness management and became the first such thesis on wilderness management in China. Before working in the NGO sector, Qian had worked in Chinese government for many years, indulging 11 years of experiences in the Ministry of Foreign Affairs and 2 years in the State Administration for Industry and Commerce.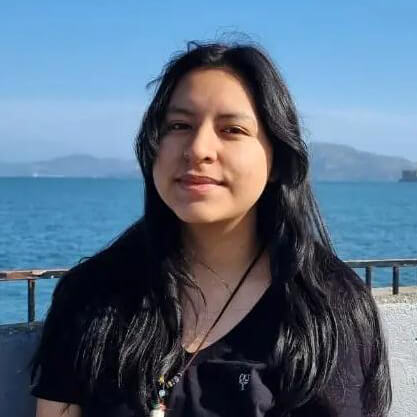 Luna Yawanawá
Yawanawá Cultural Liason Intern
My name is Luna, I'm 18 years old. I currently live in Santa Barbara, California to learn English while studying political science. I've always liked history and geography as well as discussing politics, so international politics has everything I love and I think this can help me in the future. This knowledge can be a tool for the Yawanawá community. I'm originally from Brazil, I'm a Yawanawá Indigenous Person.
Life back at home is calm. I grew up in the middle of nature and what I love most about the environment are plants and whales! I remember watching a documentary about the communication between trees' roots and leaves to avoid disease or warn about attack by predators like insects. They know when they are dying and pass all their nutrients to other plants. Whales are such intelligent animals that have culture, language and are matriarchal communities where the female older whales lead the group. I think this is all amazing.
Vance Martin
Past President (1987-2022)
Vance joined WILD as president in 1984 after 15 years in international business and non-profit management. An innovative leader known for bridging the interests of people and nature, he has lived extensively overseas, worked in over 55 countries, and helped to establish many non-profit organizations. An acknowledged expert in international nature conservation and wilderness protection, including strong friendships and working partnerships with traditional and indigenous community leaders,  he serves on the boards of numerous organizations such as the Cheetah Conservation Fund, Friends of Peace Parks, Fulcrum Publishing, Wilderness Foundation (UK), International Conservation Caucus Foundation, and others. He is also a co-founder and President of Wilderness Foundation Global (based in South Africa), and the Founder/Co-chair of the  Wilderness Specialist Group (part of the World Commission on Protected Areas, within the International Union for the Conservation of Nature). He is the prolific author/editor of many publications in numerous countries.  A native of the U.S. Piedmont region, he graduated magna cum laude from West Virginia University. For more information about Vance, please visit his wikipedia page or check out this 2021 interview with our colleagues at great.com.