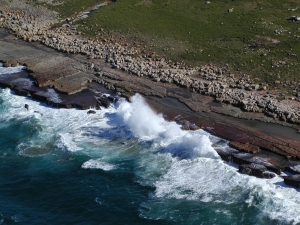 "It's a classic showdown that has rural villagers and traditional leaders on the Wild Coast tackling the South African government for not protecting their land against mining practices which they consider exploitative and rapacious," (Kockott, Sunday Tribune). The Wild Coast, a breathtaking and richly bio-diverse region on the South African Coast, has battled nearly constant threats from mining. The promise of heavy mineral sands, typically consisting of industrial metals and precious stones such as diamonds, sapphires and other gemstones, keeps the interest of international mining companies. What hasn't kept the interest of these mining giants is the impact of extractive mining on local communities and the natural landscapes upon which they depend and can earn substantive revenue without disrupting the soil.
The potential for locally run, sustainable tourism enterprise is abounding in the area. Richard Compton (Sunday Tribune) commented, "I need not explain the magnificence of this area, its unspoilt estuaries, its rare and precious ecosystems, its cliffs, waterfalls and rivers and the culture of the people who live there. It is enough to say that one, just one, community tourism operation in the area near Mkhambathi has the capacity to employ 100 local people when (and if) it is fully operational. So just imagine what 10 such facilities, an eminently realizable number as stated by the owner, would provide?"
The local community, the AmaDiba, have stepped into the game: voicing their strong opposition to mining; their disbelief of the government's promises of infrastructure, local economic benefit and support of the mining proposals, and their knowledge on the issue (confronting accusations that they are not knowledgeable enough on the issues to oppose mining). They have formed an action group, the AmaDiba Crisis Community, to respond to both the government and the mining companies.
Mzamo Dlamini, a spokesperson for the AmaDiba Crisis Community said "This is ridiculous, as we have educated ourselves about the truth about mining, as well as the false claims and lies made by MRC and Xolco [mining companies]. We have visited other rural mining affected communities in South Africa, and we have had visitors from their communities as well as students from other countries in the world share their experience with us. This has taught us about the negative social and environmental impact of mining. We have been unable find even one good example anywhere in the world that shows a positive impact on the quality of life of traditional rural communities after large scale mining developments that have displaced people. The only benefits that come from mining are concentrated in the hands of the few wealthy businessmen and powerful politicians, while the people whose ancestral land has been destroyed have been left worse off than before."
The AmaDiba Crisis Community now have Richard Spoor, the renowned human rights attorney, representing them in a High Court application challenging the mining license awarded to Mineral Resource Commodities by the South African Minerals and Energy Minister. "They are not desperate for mining in the area, as the minister would have us believe," said Spoor. "They are not asking for their lives to be turned upside down, their homes smashed, their environment degraded. But the mining legislation as it stands gives them no protection against this. It's expropriation without agreement, without consultation, without compensation."
Opinion writer Richard Compton commented, "In my opinion, it is absolutely disgraceful that a region of such extraordinary value can be left in the hands of a government department that is either patently ignorant of this region's significance, or has little interest in protecting its assets, human and otherwise."
This is clearly an issue to stay abreast of – local communites taking action to protect their wild-lands is a powerful story and a worthy cause to support.
Sources: