US Interstate 70 (I-70) is the major highway right across the middle of America, stretching 2,153 miles (3,465 km) from Maryland to Utah.  It is considered a "marvel" in the US Interstate System, and has four sections in the Colorado Rockies that are regarded as  "high achievements" in highway engineering.
I have driven across I-70 through Colorado's Rockies close to a hundred times.  A few of those times, I thought I might not make it out alive.  Think about it – you are driving through mountainous wilderness!  Most I-70 motorists may have experienced  similar predicaments,  whether it was due to snowy weather, a runaway semi-truck, a rock avalanche, or an encounter with wildlife…what the insurance industry clinically refers to as an "AVC"—animal vehicle collision.
Yes, I-70 is an engineering marvel, but it is an ecological nightmare.  The entire 2,153 miles has not one wildlife overpass or underpass.
Think of all the times you have driven past "roadkill."  Graceful deer, dainty foxes, majestic Bighorn sheep pulverized on the side of the road.  The rise of American car culture has devalued and ignored the importance of America's wildlife and their wildlands.  When did it become OK to run over animals?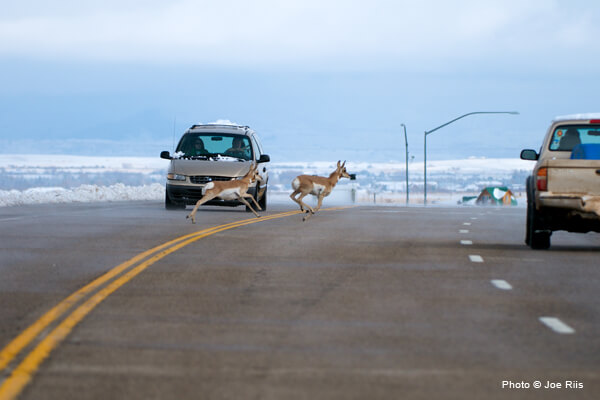 Pronghorn crossing road in Wyoming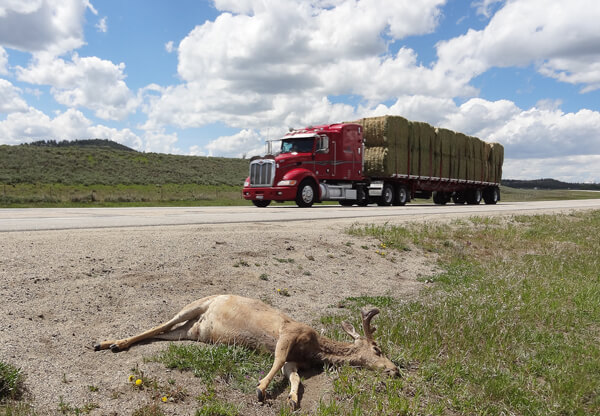 There is a growing movement across the globe to reconnect wild lands like Colorado's mountains, both to protect our wildlife and to decrease "AVCs".  Wildlife crossings built over or under the highway are a highly successful solution to this ongoing, daily tragedy that decimates wildlife and kills and maims humans…and, it's an $8 billion dollar a year tab.   The good news is that this idea is barely beginning to make an impact…and now we need to "drive" this forward so that these structures are  considered normal, and central to any road building project or repair.
The Rocky Mountain Wildlife Bridge Company is working full speed ahead on building the most prominent wildlife bridge across an interstate highway in the US.  This wildlife bridge, to be built at East Vail Pass over I-70, will be the model for future Interstate projects and beyond.  The " I-70 Wild Byway", as it has been christened, is a game-changer in highway design and conservation connectivity.  The I-70 Wild Byway will change the course of conservation in Colorado…and ultimately in the U.S.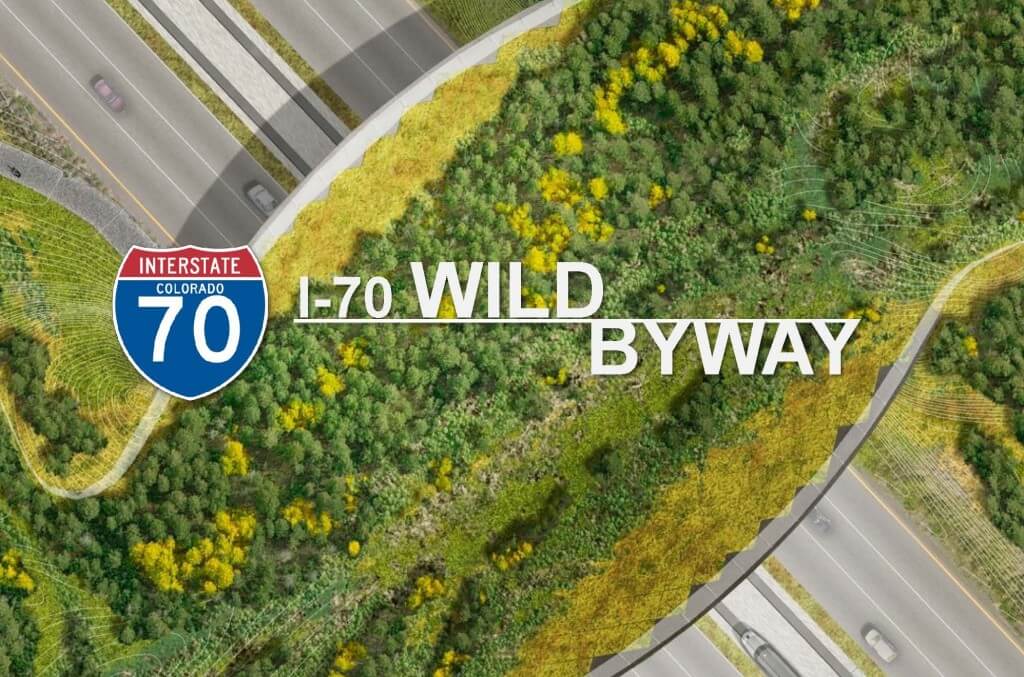 The Rocky Mountain Wildlife Bridge Company is a team of people from various backgrounds who have committed thousands of hours to get this Byway built.  The Team:
Rocky Mountain Wild – based in Denver, RMW protects the biological diversity of the Rocky Mountain west by monitoring threatened species, researching and mapping lands, and campaigning to preserve these threatened areas.  RMW has been moving the I-70 wildlife bridge project forward for many years.
Environmental Communications Associates –For over 20 years, Environmental Communications Associates has been a pioneer in strategic planning and communications on environmental and sensitive issues.  ECA is leading the messaging and project planning for the I-70 Wild Byway.
The WILD Foundation – As the heart of the global wilderness movement, WILD protects wild lands, wildlife, and people through policy, research, the arts, and outreach.  WILD will manage the Education and Outreach of the I-70 Wild Byway.  WILD's core objective is to directly teach over 30,000 Coloradans (and reach out to the hundreds of thousands others who use  I-70) about the importance of the I-70 Wild Byway to the future of Colorado's wildlife populations, driver and animal safety, and ecological integrity.
Bethany Gravell is managing the fundraising campaign for the I-70 Wild Byway and as former E.D of RMW has been networking with stakeholders and project partners for several years.
Rick Wells of REGen, LLC is the Project Manager for the I-70 Wild Byway project and is a licensed engineer by training with project management, financial consulting, and infrastructure construction experience.
The Colorado Department of Transportation (CDOT) has been an active participant in studying the problems of vehicle/animal collisions. CDOT and RMW have cooperated over the last year to select a site for the first I-70 wildlife bridge, as well as sites for future wildlife bridges.

Photo © HNTB with Michael Van Valkenberg and Associates courtesy of ARC Solutions
This first bridge will be built using a combination of public and private funding and we have several committed partners.  We need your support to reach our goal!  If you are passionate and committed to building the first wildlife bridge over I-70 in Colorado, click here to make your contribution and share this blog with others.
Special thanks to project sponsor ARC Solutions! Learn more at: https://arc-solutions.org/