Today our group arrived in Cape Town and I was surprised by how large the city is! We settled into our accommodation at the Harfield Guest Villa and got set for a few days of meetings and fun. One of our longtime colleagues, Dr. Karen Ross, is joining us for several meetings and events over the next few days. Karen is undoubtably one of the world's leading experts on the Okavango Delta in Botswana and is currently working on elevating the level of protection for the Okavango by pursuing World Heritage status.
As soon as we saw Karen, she excitedly updated us on the proposal, which was going well. There is a lot of in-country support for the World Heritage listing, but there is still a lot of hard work ahead. Karen recently received an endorsement letter from the President of Botswana – see below. Yay!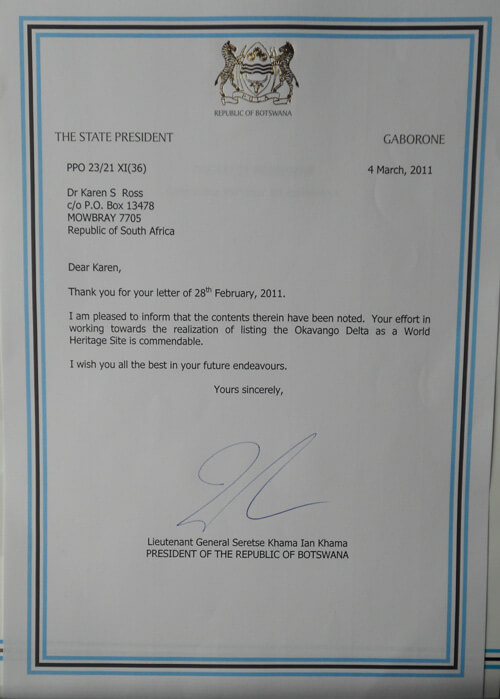 Having the Okavango declared as a World Heritage site is important because it provides international recognition for this ecologically important area. Having World Heritage status is like an extra layer of protection as well as international recognition – to help ensure the highest level protection and management for many generations to come. Other natural World Heritage sites include the Great Barrier Reef (Australia), the Nahanni National Park (Canada), Galápagos Islands (Ecuador) and many other.
Congratulations on this important milestone, Karen. You are truly a conservation giant!