As mentioned in the previous "Pronghorn Migration" blog by Alyson Duffey, the WILD staff in Boulder recently took a road trip to visit with our friends and partners at The Murie Center in Jackson Hole, WY. And what a phenomenal trip it was! We couldn't have asked for better weather; temperatures in the mid 70s and the sun shining down on the majestic Grand Teton mountain range. We were greeted by Crista Valentino, Director of Programs & Communications at TMC, who showed us to our cabins. The Murie team had mentioned to us that a fox had a litter of pups under one of the cabins…and sure enough, they popped right out shortly after our arrival! We all stood by, taking photos and watching the young pups wrestle each other as the mom stretched out in the evening light. What a great start to our visit!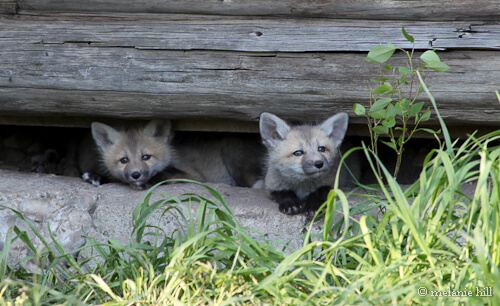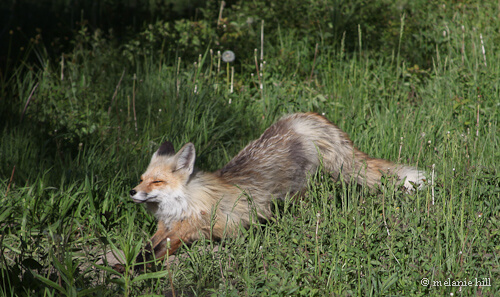 Although our time in Jackson was limited, we certainly got our fill of activities in. We explored the town, ventured into Grand Teton National Park, went for a hike, met the newest member of TMC (Kate Gersh, Director of Education & Outreach, and roller derby enthusiast), and saw numerous wild animals. On our way to hike in the LSR Preserve, Alyson and I took a pit stop to take photos of a young bull moose lazily grazing in a pond. We also saw numerous elk, deer, a variety of birds, and of course the terribly cute family of foxes.
Okay, so maybe this just sounds like a fun little visit (yes, it definitely was), but we took this trip to meet with our partners on some very exciting projects. The Murie team is partnering with us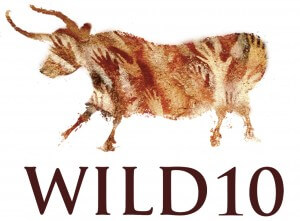 on some of our WILD10 programs. We spent a full day in meetings with them about bringing the Wild Wonders of Europe (WWE) photography exhibit to the US, and about our coalitionWILD Young Professional program of WILD10, which the Murie team will be leading with Aly. We also met with the head curator at the National Museum of Wildlife Art about bringing the WWE exhibition to their gorgeous museum. In addition to meeting about WILD10, we had the opportunity to see firsthand how The Murie Center operates. Jon Mobeck, Associate Director of TMC, described their organization as "the catalyst for conservation work."
The Murie Center has a rich history in conservation. The Muries, Olaus & Margaret (Mardy) and Adolph & Louise, purchased the property (located in Grand Teton National Park) in 1945. Adolph and Olaus were half-brothers, and Mardy and Louise were half-sisters. Olaus & Mardy married in 1924, while Adolph & Louise married in 1932. The Ranch served as the western headquarters of The Wilderness Society while Olaus was the organization's president. Board meetings, debates, and discussions were held in the main house from the late 1940s through the 1960s. During this time, the Wilderness Act was conceived and forged with many key deliberations occurring at the Murie Ranch. In 1990, the Olaus Murie residence and studio were listed in the National Registry of Historic Places for their association with regional conservation. The remainder of the property was designated a National Historic District in 1997, and a National Historic Landmark in 2006. Fewer than 2,500 historic landmarks carry this title!
That same year, the non-profit Murie Center was formed to partner with Grand Teton National Park to become stewards of the ranch and to carry on the work of the Murie family. Today, the Murie Ranch is alive with activity and the Muries' vision for their home is being realized as a dynamic center where people gather for study, debate and inspiration on behalf of wild nature. We feel very fortunate that we were able to experience this beautiful and influential place.  We left Jackson feeling refreshed, recharged and full of ideas. Thank you Murie Center Staff and keep up your great work!
>View the photos from Jackson Hole!