After meetings in Washington DC in late April, everything was focused on gathering exit speed in the US to head to NW Namibia to join the team members assembling from all points of the compass to launch the Tracks of Giants expedition.  As I departed the US on 25 April, my watch broke. As we approached Johannesburg after the 17 hour flight and lots of work, I powered down my laptop…only to have it fail to re-start during my 8 hour transit.  When I landed in Windhoek my local cell phone quit…things were going great (!), clearly telling me that I was overdue for a break-away in the wilderness, sans tech.
In Windhoek, the capital of Namibia, a very helpful (obviously God-sent) computer tech loaned me a laptop for a day so I could re-group and finish critical work.  Next morning, early 29 April, I met Sharon McCallum (wife of Tracks co-leader Ian McCallum) and Tessa van Schalk (partner of co-leader Ian Michler), Nick Chevalier (filmmaker/cameraman) and Nico, the pilot of a light aircraft and a volunteer member of the Bateleurs (Flying for Conservation in Africa). Nico ferried us 2 hours NW to the sandy airstrip at Purros in Namibia's Kunene Region.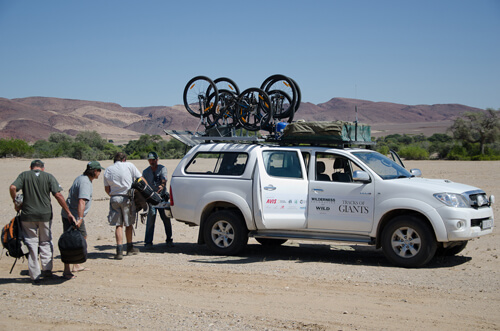 Everyone was gathering. The co-leaders and drivers of the back-up vehicles had arrived by land late the day before (including Ian Michler's 4 year old son, Liam), doing the 13 hour drive after a press conference in Windhoek.  That night the 5 local conservationists came in by vehicles from around the region…including "Tier," Chris Bakkes' 7 year old Jack Russell Terrier that he takes with him everywhere! Chris is the unusually gifted character who works for Wilderness Safaris and is the "concession-holder" (lease holder) for the vast area of the Skeleton Coast National Park, which we'd soon be traversing.   By nightfall, the team was assembled.  We had a briefing, a brai (barbeque), and a few beers.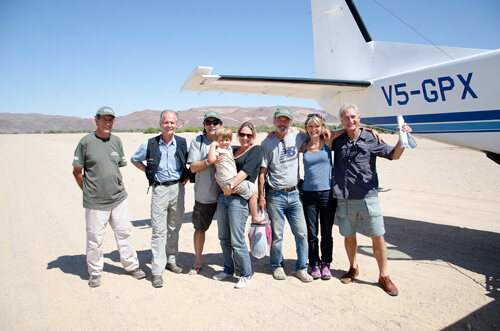 >View the photos leading up to the May 1st launch!