Hi all! thought instead of writing one long blog post today, that I'd just post a few updates and news items – Enjoy!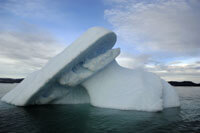 The Extreme Ice Survey is scheduled for a two-hour documentary on March 24, to coincide with the release of the new EIS book: Extreme Ice now: Vanishing and Changing Climate: A Progress Report." The book and program will showcase the captivating and alarming imagery of EIS, showing the real and very impact global climate change is having on our world's glaciers.
Andrew Muir, Executive Director of the Wilderness Foundation (Africa) will participate in the Education without Borders conference as a mentor leader. A graduate from our Umzi Wethu AIDS orphan training academy will also attend and participate in this globally important youth leadership event.
The Wild Wonders of Europe, an initiative of Staffan Widestrand (ILCP Fellow), has been updating their blog very regularly! Check it out to see posts from some of their field photographers.

Friends of The Wilderness Network, specifically the Wilderness Foundation (UK), Mark Evans and John Smith have just completed their 28 days of living and exploring the Empty Quarter of Oman. Read more about their journey on the Wilderness Foundation (UK) blog.